Anger comes later
Everyone knows the road ahead is long, but long means years not months
Occupy Wall Street began almost three years to the day after Lehman Brothers declared bankruptcy. 
Protestors occupied Zuccotti Park, just a few blocks from the New York Stock Exchange, for two months. This demonstration is the reason we talk about the 1% today.
The stock market made its most recent low on March 23, which roughly tracks with the day most of the country began sheltering in place. There is, obviously, wide variability on what some specific measures did and did not look like across the country.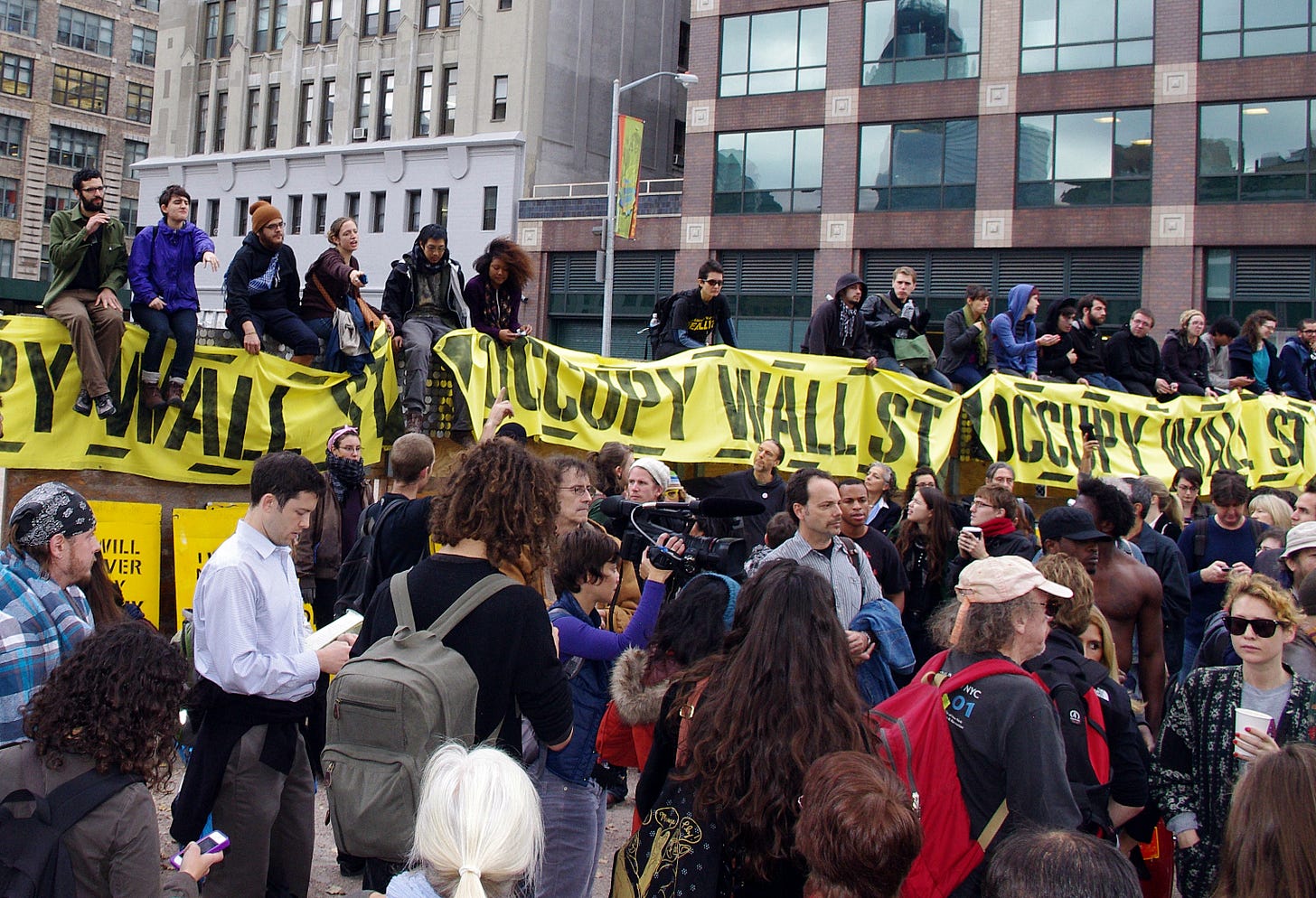 But just over a month later, we are now looking at states loosening, or preparing to loosen, their restrictions on which establishments can be open, who can go to work, and how we can start recovering from this pandemic-induced recession. 
The events of the next few months will certainly mark a turning point in our collective fight against the coronavirus. Many fear these looser restrictions will be but a brief mistake before states reverse course amid worsening outbreaks of the virus. Others believe the most restrictive measures are behind us once and for all. These narrow debates need not be had out for too long. Time will literally tell. 
And while the dilation of time has made every month feel like a decade, every week like a year, every day like a month, our collective efforts to process and recover from this crisis are barely beginning. 
The ice may be thawing on this first weekend in May but the air is still cold. 
And as we look towards the next few years, something Jim Bianco told me three weeks ago has stayed with me as a guiding principle for understand where we are and where we're headed — anger comes later. 
There is, of course, plenty of anger out there right now. Right wing domestic terrorists occupying state capitols while cloaking themselves in obtuse interpretations of The Constitution and intimidating elected officials is certainly a sign of anger. But these reactionaries are using these actions to advance goals that aren't specific to this crisis. Because most Americans still support shelter in place policies. And early returns show that when states "open up" most Americans are choosing to stay home.
And so it is anger about how responses to this crisis have gone wrong — why this crisis cost me everything — that has only just begun. 
The New York Times this week chronicled the mile-long lines for food in New Jersey, the nation's second-richest state suffering through the second-worst outbreak of COVID-19. Food banks in South Jersey, where many workers are levered to the ups and downs of the Atlantic City casinos and a seasonal influx of Shore residents, are overrun. In Summit, a wealthy suburb just one town over from where I grew up, lines for food are snaking around the block. As a kid growing up in New Jersey, you learn that its close quarters will expose you to a slice of life you're liable to find in any of our 50 states. The good, the bad, the ugly. The unequal, the charming, the shocking. 
"It wasn't easy to come," Richard De Angelis, a poker dealer at the Golden Nugget casino, told the Times of his presence in one food line. This is the moment in the crisis when Richard and others like him swallow their pride and do what is necessary to put food on the table. This is the survival phase. 
Anger comes later. 
Emergency measures have been taken in a series of steps by lawmakers over the last month to get money into the hands of workers and business owners. Enhanced unemployment benefits for employees run through July. The latest round of stop-gap grants for businesses is about to run out of money. That this program wasn't made open-ended is a political scandal. 
But eventually August will come, businesses will re-open at lower levels of capacity as mandated by the lawmakers who ordered them closed in the first place. We all fear that Congress will respond by saying: "See? Fixed!" 
Quick and dirty math shows that businesses don't face a "long road ahead." They are being led to slaughter. Say you run a restaurant forced to shutter in mid-March. Your PPP loan got you some money, your landlord extended your April and May rent payment. Your furloughed staff collected unemployment. June comes and you're able to open, but only at 25% capacity. You're full every night. And even if we assume an extremely generous takeout business, revenue coming in the door is still 50% of what you'd had previously. 
Four weeks of operating yields two weeks of revenue. Most restaurants have less than a month of liquidity on hand in the best of times. This is a business dying, just more slowly than before. And now expenses aren't frozen. Rent is due. Deliveries are showing up on a regular schedule. Enhanced cleaning measures are a new cost. And you're still not able to bring back all of your staff. If the government had to come in to try and make you whole in the spring, the mandated loss of business on the other side will require a similar intervention by the fall. 
Last week, we talked to restaurateur David Burke who told us, point blank, that if his group doesn't get PPP funding in the current round his New York City restaurant will not open back up. And even if it did, the road ahead is more challenged than most of us are prepared to accept. 
Our solution to fixing this economic crisis created from a health crisis is to make everyone play the lottery. And when you run a lottery, after the money is disbursed your job as administrator is done. Congress is running this lottery. And so as politicians stop caring about you and every other restaurant, every other nail salon, every other bookstore, flower shop, and boutique lease renewals will come up, decisions will need to be made. The roulette wheel will stop spinning and everyone will count their chips. And the count is going to be low. 
The answer for so many of these businesses will be to close. 2021 is going to be worse than 2020. If 2020 was a year when we all acted, for at least a few moments, like we were in this together and the government briefly did half of what was needed to keep the economy's gears turning, then next year we all get left behind, every man for himself. And people will be angry.
The privileged, aloof class of white collar worker whose hardship right now is staying inside during a beautiful spring afternoon has only started to understand what this crisis will mean for them. White collar layoffs will come with a vengeance as budgets cut in an emergency are never made whole, canceled orders stay canceled, broken contracts stay broken. 
As Guillermo Roditi Dominguez at New River Investment Group has been outlining on Twitter for weeks now, the longer-run negative impacts on business spending are just not being appreciated right now. 
"It worries me that people don't understand that even if some measures of economic activity improve, the behavior of managements wont go back to 'full steam ahead,'" Guillermo wrote Saturday. "Investments in growth initiatives will decline. This is a textbook collective action problem." 
Airlines, for instance, have pledged no layoffs through the end of September as part of their government assistance package. No one should kid themselves about what comes on October 1. Tens of thousands of workers in the media business have been laid off already. More cuts are coming. 
"New normal" narratives are going to be pushed through every corporate strategy update for years. If the post-financial crisis world is any roadmap, these changes will be permanent. When Dish Network and ESPN go to war with each other over $100 million worth of fees, who takes the brunt of this fallout? Employees at ESPN and Dish. 
The challenge of appreciating these next phases of the crisis is that this pandemic is so real. Tens of thousands of people have died. Many tens of thousands more will die. Millions have gotten sick. Many of the sick will forever lose their health even if they survive COVID-19. Surviving this health crisis is a desperate task in itself. And while the data suggests you and your family will most likely succeed in this effort, the consequences are beyond most imaginations. Millions of people have lost jobs and will be out of work for years. Millions more will never work again. 
However you defined reality before 2020 — good, bad, indifferent — that world is gone forever. That world is never coming back. Whatever your friendly Toyota or Home Depot commercial tells you about coming back stronger is bullshit. 
This crisis is crippling in ways we can't even see yet. And what I think we need to understand is that this epoch in world history has barely started. Some day soon it's going to feel like the world is "coming back" because we're allowed to leave the house. 
But it won't be long before we realize there's nowhere left to go. 
And then we'll get mad.
---
Thanks for reading I'm Late to This. If someone sent this your way or you haven't do so yet sign up below so you never miss an issue. We publish every Sunday morning.
If you agree, disagree, or just want to engage on any of the topics discussed in this letter reply to this email or hit me up on Twitter @MylesUdland.
Feedback is always welcome and highly encouraged.