Discover more from Late by Myles Udland
Essays on business trends, ideas, companies, fads, and anything else that won't stop taking up space in our heads.
Over 2,000 subscribers
Corporate America's politics of no politics 
Big business learns that asking to be removed from the discourse doesn't make it go away.
Reopening a chain of movie theaters is not a political act. It is a business decision. 
In this environment, opening theaters is a public health judgement, too.
But the default assumption of the decision makers at a movie theater chain is that neither profits nor health are political. Everyone should want more of both.
Unless you misjudge what constitutes public health. Or politics. Or both.
And so.
On Thursday last week, AMC Theatres said it would re-open its movie theaters and would not require masks be worn in the theater. Fine. A medically naïve decision, but a decision nonetheless. 
AMC proudly announced a new partnership with Clorox as part of its reopening plan and boasted about all the steps it will take to keep theaters clean. And indeed, much like what's happened to the subways here in New York, it sounds like movie theaters will be pretty freaking clean come this summer. (It also makes you wonder how risky pre-COVID movie theater attendance really was.) 
But AMC CEO Adam Aron told Variety on Thursday that the decision to not require masks was motivated by the company's desire to avoid being drawn into a political controversy. 
Which, of course, guaranteed that such a controversy would follow.
"We did not want to be drawn into a political controversy," Aron told Variety. "We thought it might be counterproductive if we forced mask wearing on those people who believe strongly that it is not necessary. We think that the vast majority of AMC guests will be wearing masks. When I go to an AMC feature, I will certainly be wearing a mask and leading by example."
The first part of this statement is where the most obvious contradiction comes in — it is the politics of no politics spelled out in 11 words, suggesting that if we could all just avoid this messy business of politics things might remain just so. 
But Aron's view that the people who "believe strongly" masks don't work are the group to which the company must cater outlines the most corrosive part of this political worldview.
The politics of no politics that pervades corporate America hinges on the assumption that all political views contain equal parts right and wrong, a classic both sides construction all readers will recognize. And this view argues that conviction on an issue — any issue — should be respected on the basis of the conviction alone. Passing judgement on someone else's stance is cowardly, taking a stand is heroic, and who are you (we) to say what's right and wrong anyway? 
And yet our now-politicized pandemic does have a right side and a wrong side. And it's only become politicized by those who are wrong about the virus. Saying this out loud is not a political statement. You might disagree. But you are wrong. Wearing a mask does help slow the spread of the virus. Gathering indoors with other people is the riskiest thing you can do right now. Because these are inconvenient to you does not make these findings value judgements.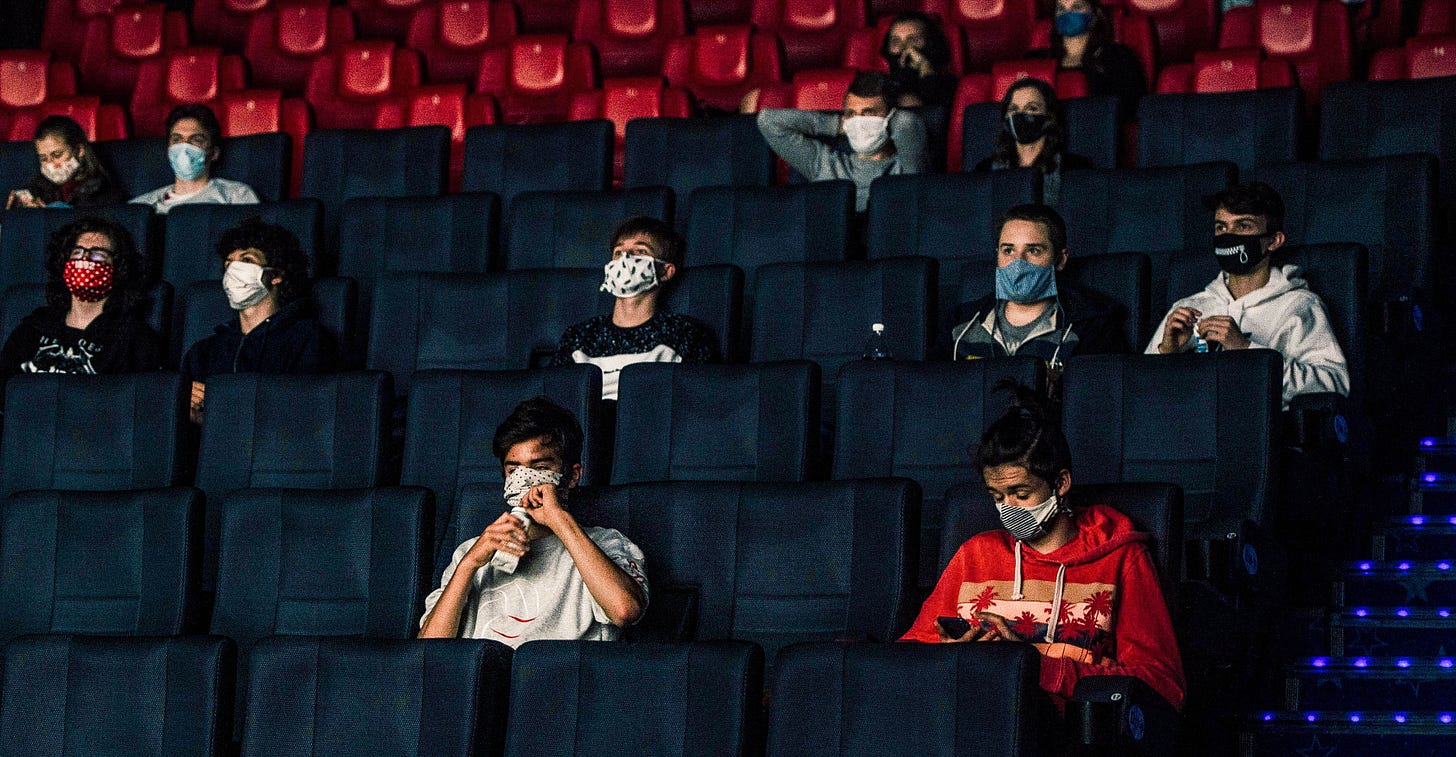 And so AMC reversed its decision. The reversal is a corporate press release for the ages full of declarations that we were still right in the first place while insisting that nothing matters more than the feedback we got from the very customers whose health we were willing to compromise just yesterday. ("That policy on guest mask usage, which is directly comparable with our major competitors and many other highly regarded retailers, was announced yesterday afternoon." Put it in the hall of fame.)
How one movie theater business thought not requiring masks would be seen as politics is almost incomprehensible. Almost.
Unless we accept that being apolitical — that the politics of no politics — results in businesses and institutions rewarding and catering to those with strong convictions over those willing to be flexible and take up new, novel, or changed positions amid a world of infinite complications. 
AMC knew, like all businesses, that some of its customers believe — "strongly believe," in AMC's words — wearing a mask is a sign of weakness, an infringement of constitutional freedoms, a liberal conspiracy, or all of the above. And AMC made the decision to protect these customers' wrong beliefs about public health instead of making what it very likely knew was the correct decision in the first place — go the movies, wear a mask.
But in our turn-of-the-millennium reality that big business crafted, the goal is to stand for nothing so as to alienate the fewest number of customers. The inconvenient upshot of standing for nothing is that anyone with a strong belief must be appeased first and foremost. The annual faux outrage over whether the barista wishes you Merry Christmas and what's on the Starbucks holiday cups has served as a mere preview for how consumption's political significance has grown to this new apex.
In recent years, however, the cracks in this worldview's facade have started to show. 
Because while there have always been and will be companies that take exclusionary political positions — your Chick-fil-as of the world, for example — brands ranging from Tic-Tac to Dippin' Dots have in recent years had to issue clarifying statements that they, unlike the President, do respect women. 
And attempting to stand apart from the real world's increasing intolerance for the past's oppressive default settings is becoming a quickly untenable position for corporations previously uninterested in believing anything at all.
When Nike announced an endorsement deal with Colin Kaepernick in 2018, the company was unique among major consumer brands in its desire to not only stand behind but elevate the racial justice message of an NFL star who had been blackballed by the league's owners for caring about something other than just playing. In recent weeks, however, it is rarer to find a consumer brand that hasn't issued a statement affirming its support of Black Lives Matter than one that has. (It is notable that AMC Theatres does not appear to be one of these companies; its biggest statement to date is a June 7th tweet promoting hasthagsocialjustice films you could watch.)
And while there is easy cynicism surrounding most corporate pronouncements of solidarity, I think these cynics assume the we still live in a world in which companies stand for nothing but money because only money is worth standing for. The cynics believe consumers don't care about what they buy. But so much of what seems like the "American Dream" these days is the abundance of our choices as consumers. 
And too many have seen their families and neighbors left behind in corporate America's world of power and men and money to believe companies aren't standing against them by "keeping politics out of it." Saying nothing is now louder than saying something. And that politics has become an integral part of consumption should surprise no one when the President's entire public image before taking office was to be an avatar for conspicuous consumption. In many ways, the only thing we all share in this country is the ability to use credit to purchase more stuff than we an really afford.
Back in 2016, Taylor Swift famously said: "I would very much like to be excluded from this narrative, one that I have never asked to be a part of, since 2009." 
I think about Swift's statement all the time.
It offers such a succinct summation of the apolitical stance that so many people and institutions of privilege were taught to take. If the politics make you uncomfortable, just declare yourself apolitical. Problem solved. 
But we do not live in an apolitical world. Having "no political views" is the most popular brand of politics for those made uncomfortable by what has broken their way, by what they've never had to confront, by the profits they've earned off the suffering of others. And yet this "no view" political position is a highly political stance. 
And so while corporate America has worked very hard to establish a politics-free universe in which it can sell goods and services to the masses without taking a stand on anything other than lower corporate taxes, reality has increasingly encroached on this island. 
The politics of no politics begin falling apart when, as Byrne Hobart noted this week, the null hypothesis is misidentified. When "being apolitical" is on the wrong side of where things are headed, your previously under-the-radar preferences are exposed.
And you just might wade into a political controversy if its the only thing you didn't want.
---
Thanks for reading I'm Late to This. If someone sent this your way, or you haven't done so yet, sign up below so you never miss an issue. We publish every Sunday.
If you agree, disagree, or just want to engage on any of the topics discussed in this letter, reply to this email or hit me up on Twitter @MylesUdland.
Feedback is always welcome and highly encouraged.