The post-pandemic world begins 4 years from today
The Paris Olympics will serve as the return to a world that would've felt normal in 2019 and help define what's next.
I've always loved the Olympics.
Even before I became a track nerd in high school. 
My Olympic life so far has been defined by Michael Johnson's 200m run, by Cathy Freeman, by El Guerrouj's double gold in Athens, by Michael Phelps, then Phelps again. Along came Usain Bolt, then Bolt, and Bolt a third time. We met Mo Farah, Katie Ledecky, Simone Biles. It goes on.
And if you get really into track, every four years other people might care. Every fourth summer, the world will pay attention to who the fastest man and woman on earth are. 
For one night, perhaps, the drama of the 800m, or a tension-building 10,000m, or the hold-your-breath anxiety of the 110m hurdles might have appeal beyond the hardcore audience of those who ran in high school in college and kept checking LetsRun. 
That the 2020 Olympics aren't able to go off in 2020 already makes whatever follows a hollow win. And we haven't even begun to discuss that just six months after the tentative dates for these postponed Games, the world is scheduled to send athletes to Beijing for the 2022 Winter Olympics. What do U.S.-China relations look like by then? It's not like we haven't used athletes as geopolitical tools before. And what of the pandemic? Who is still pointing fingers at whom in a year? And what will we know we know then versus what we think we know now? It goes on. 
Among friends and colleagues I often find myself fighting a rap as being negative, or worse, cynical. I think I'm neither. I think I'm actually naïve. If anything too quick to give credit where it isn't due. But I only sketch out this defensiveness because I know what you're thinking — four years is an awful long time for a pandemic to drag on.
And indeed, the pandemic will likely be over well before the world convenes in Paris for the next regularly-scheduled edition of the Summer Olympics. But this is also the first date on the global calendar that can be reasonably counted on to offer an experience roughly recognizable by 2019 standards.
Whatever is next for all of us will officially begin four years from right now, on July 26, 2024.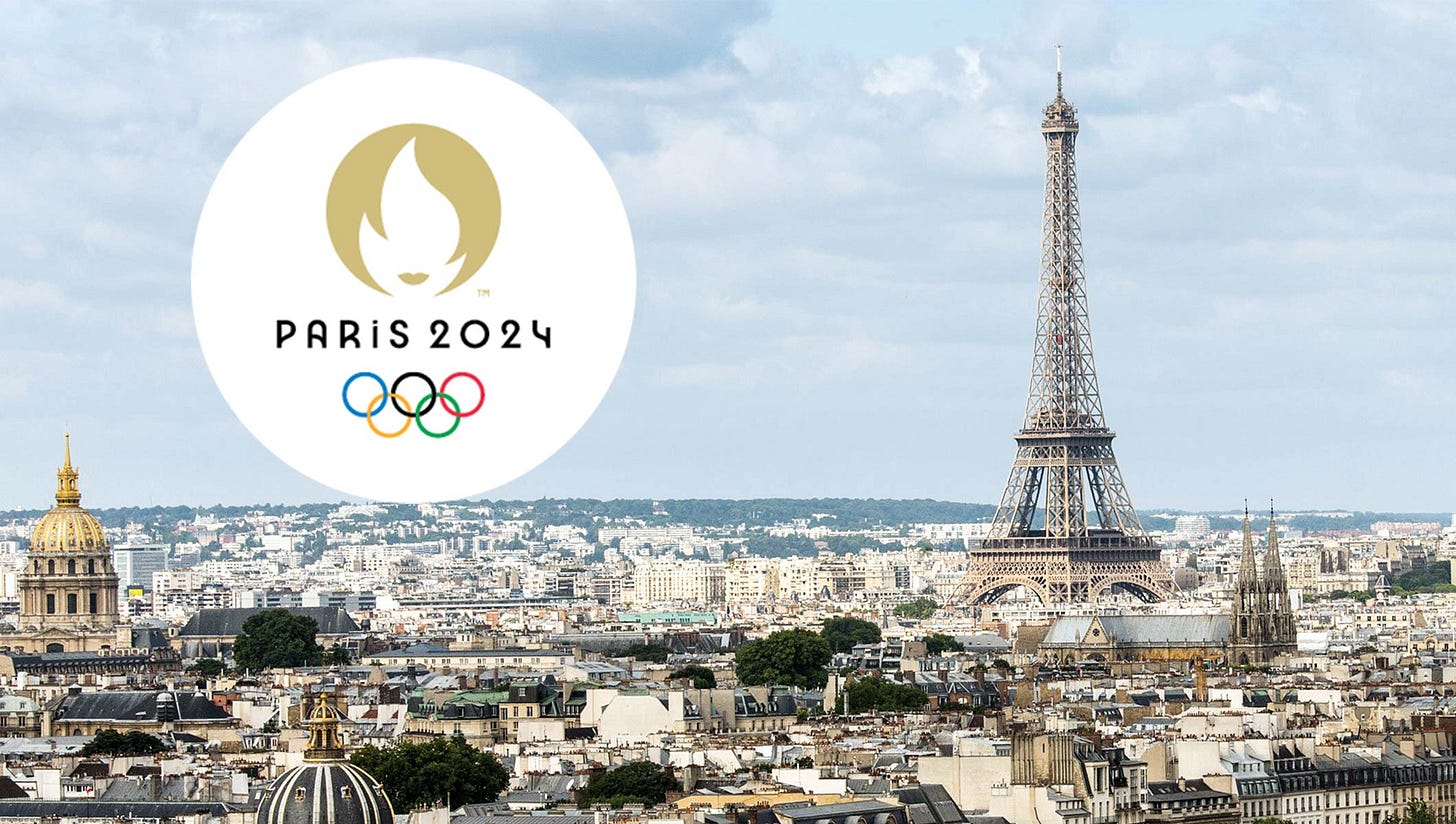 Treatment timelines suggest that the world could look in-the-neighborhood-of-normal by this time next year. Science is a true marvel. And while I've been among those who expressed an adolescently-informed skepticism (since things aren't happening now they will never happen, etc.) in assessing the situation just a few months back by declaring there'd never be a vaccine, there will, it seems, very much be a vaccine. It is a dark time in the U.S. right now, but there are reasons for optimism. 
But what I think we all crave isn't so much optimism as a return to a time when we didn't have to spend 20 or 30 or 85 minutes talking about a novel coronavirus with friends or family before getting to anything else. And we want to return to a time when we didn't have to meet with our loved ones over FaceTime or Zoom or iMessage or wearing masks and standing 12 feet apart because what's the extra six feet going to hurt? And four years is a long time to wait. 
There are very practical challenges facing all of us in the months ahead, weeks ahead. What the school year looks like here in the U.S. is going to leave an indelible mark on a generation that's already been pulled from the classroom overnight with no plan. It remains to be seen if they are welcomed back with any firmer ideas about their educational success.
White collar workers have been at home for months with only limited movement on how or when or why or for what they'd be brought back to centralized offices. Our collective "respect the troops" energy funneled towards the overworked, underpaid essential workers that make our food, stock our shelves, and go unnoticed by too many has been sent back towards, well, the "troops." We're only five months into what will be a much longer crisis and it's already morphed three times.
And none of this, really, has to do with the Olympics. 
But in our post-globalized world where geographic and random-chance organization grow less important and make us less connected to the structures humans have leaned on for generations, the Olympics still offer a communal marker of time. Falling on even years in which there's a U.S. presidential election, the Summer Olympics allow history a chance to breathe in a digital world overstuffed with real-time tales of decline. 
Just two summer games back, for instance, the world met in London just one day after Mario Draghi declared he'd do "whatever it takes" to keep the eurozone — our modern world's greatest governance experiment — intact. Two Games before that, Athens triumphantly hosted in a move later seen by some as to blame for imperiling the project in the first place. And so the Tokyo Games being postponed does as much to place 2020 in context as anything else. 
When I wrote this letter in my head, I wanted to talk only about how watching Fermín Cacho's 50-second bell lap to win the 1992 1500m in his home country at the Barcelona Olympics leads you down one of YouTube's great rabbit holes. I wanted to debate the relative merits of the gymnastics vs. swimming vs. track & field competitions at the Olympics (swimming and gymnastics tend to come in the Games' first week or so while track rounds out the proceedings, a schedule that to my mind takes away from track but also I would think that because, well, more people should care about track because it is our purest sport, doping and all!). I wanted to tell everyone about Noah Lyles and Michael Norman and Ajee Wilson and Sydney McLaughlin. Maybe we can meet all of them next year. 
But it's not sounding great. 
The delayed Tokyo Olympics could not be held next year if conditions surrounding the coronavirus pandemic continue as they are, the president of the organizing committee said Wednesday.

In an interview with Japanese broadcaster NHK, Yoshiro Mori said he was hopeful the situation would improve and suggested a vaccine was the key.

"If this kind of situation (with COVID-19) continues, is it possible to hold the games?" Mori was asked by NHK.

"If current situation continues, we couldn't," Mori replied, speaking in Japanese.
In the track & field world, we've already seen a world of barren major championships where the drama exists only on the screen. The results are not pretty. The 2019 IAAF World Championships were held last October in Doha in front of approximately no one. A preview of the empty stadium sports world U.S. audiences will become familiar with in the months ahead, that European soccer fans are growing into, and that awaits almost any version of the Tokyo Olympics. 
But unlike the Premier League, the NBA, or the NFL where the all-year-round industry of gossip, gambling, and content creates durable legions of enthusiasts who need about ten minutes to get used to piped-in sound and empty seats before they realize all that matters is that Chelsea are playing a real game, the Olympics require the spectacle. The magic of the Olympics is about showcasing and elevating athletes who've already spent their whole careers competing in front of friends and family trying now to peak in front of 90,000 spectators and hundreds of millions on television.
The commercials that elevate our favorite sporting myths tell you about the time spent training alone "when no one was watching" or, more inspirationally, "when no one believed." And yes, these themes are true for all athletes, for all humans. 99% of everything any of us does, no matter who you are, is not something other people will ever care about or see happen. Props to Nike and Gatorade for making this a rallying cry for young athletes. 
But the swimmers, the runners, the gymnasts, the archers, the wrestlers, the cyclists, the triathletes, the table tennis aces who've spent years winning regional, state, and national titles in front of only teammates, family, friends, and other competitors finally get to the Olympic stage and no longer have to compete and win anonymously. Just listen to the crowd as Mo Farah tears down the homestretch in the 10,000m in London, as Bolt sprints for immortality in Rio. 
Are the modern Olympics much else beyond a money grab? No. But the world they create for the athletes who pursue this competition as the culmination of a lifetime's work care little about whether McDonald's and Coca-Cola are the Official Fuel Sponsors™ of the Games or about whether the Games' official broadcast partners get proper credit in external media coverage of their plans. And while these athletes are the collateral damage of corrupt bids that bring the winter games to seaside resorts along the Black Sea and the summer games to an unprepared megalopolis along the southern Atlantic Coast, their performance belies this pawn-like status in a game of global influence gone wrong.
But competing in empty venues, hoping the worst pandemic in a century doesn't get reignited in a global village that welcomes athletes, media, and visitors from almost every country in the world is, even for the disrespect endured by an Olympic athlete, an insult too many. 
Whatever games do go on next year or the year after will be half-Games, facsimiles of the experience John Williams' triumphant trumpet hook promises us all, viewers and champions. Our hearts should break for all the athletes that waited four years for their grand moment and will now have to wait four more. But the next time I'll be able to indulge in the childhood enthusiasm of an Olympic summer, the calendar will be 2024, the city hosting will be Paris, and I can't fucking wait. 
So until then. 
---
Thanks for reading I'm Late to This. If someone sent this your way, or you haven't done so yet, sign up below so you never miss an issue. We publish every Sunday.
If you agree, disagree, or want to engage on any of the topics discussed in this letter, reply to this email or hit me up on Twitter @MylesUdland.
Feedback is always welcome and highly encouraged.